Last Friday I made one of my favourite journeys from Leeds to Bridlington. It is a fabulous train-ride where I marvel at the buildings and structures I see out the window, never feeling I want to read, always worried I might miss something.
Selby Abbey, Wressle Castle, the Humber Bridge, Hull Paragon Station, Beverley Minster and Burton Agnes House. A wonderful shopping list of architectural marvels signaling a belief, a vision and genius in those who designed and built them.
I'm contemplating a collection which has a 'memorial' theme and it struck me that this particular route, which always feels like an adventure, might stimulate some poems. One day later this year I will get off at Wressle station, look round the gorgeous Georgian parish church on one side of the railway line and then the ruined castle on the other side.
I looked out for the statue of poet Philip Larkin when I got to Hull Station as I invariably do. I've always regarded him [and Edward Thomas] as the patron saints of railway poetry.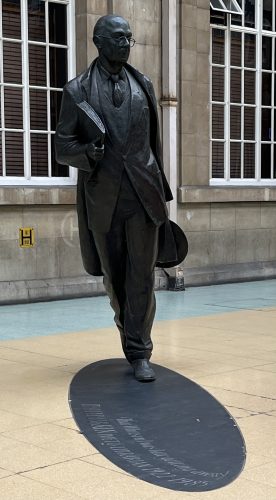 And then it was the seaside train to the prize-giving event for the East Riding Poetry Competition at North Bridlington Library, where I read a handful of the winning poems and met some of the winners and runners up. As ever I was inspired and uplifted by this evening of great poems from young and old.
Stupidly early the next day I caught the return train to Leeds and was able to see the sunrise behind the Humber Bridge. Perfection.
PS: On Friday afternoon I sat down at my table in Brid and wrote the drafts of three poems. In a time of low inspiration this was fantastic. I put it down to having space to look, to witness and to think; a space for ideas to grow.