There was an ad some time ago [probably longer ago than I think], 'I can't believe it's not butter', and in the same vein I hear myself thinking, 'I can't believe it's November already'.
October was spent doing many things that I love, slowly getting a collection together to share with my publisher, hosting half a dozen events at the fabulous Ilkley Literature Festival [now in its fiftieth year], and then a holiday in Spain, not far from Malaga, to celebrate a friend's special birthday. A golden year for both of them.
Getting poems together that I've written over the last few years, some in the last months, is an emotional journey. The Inner Critic [a complete bully] reads every poem over my shoulder with a lot of scornful heavy breathing and tutting. Occasionally we both realise that a poem is alright, and I sense the IC's disappointment. They're nearly ready to dispatch, and I will wait [as I always wait] fingers crossed to hear whether they are worth publishing..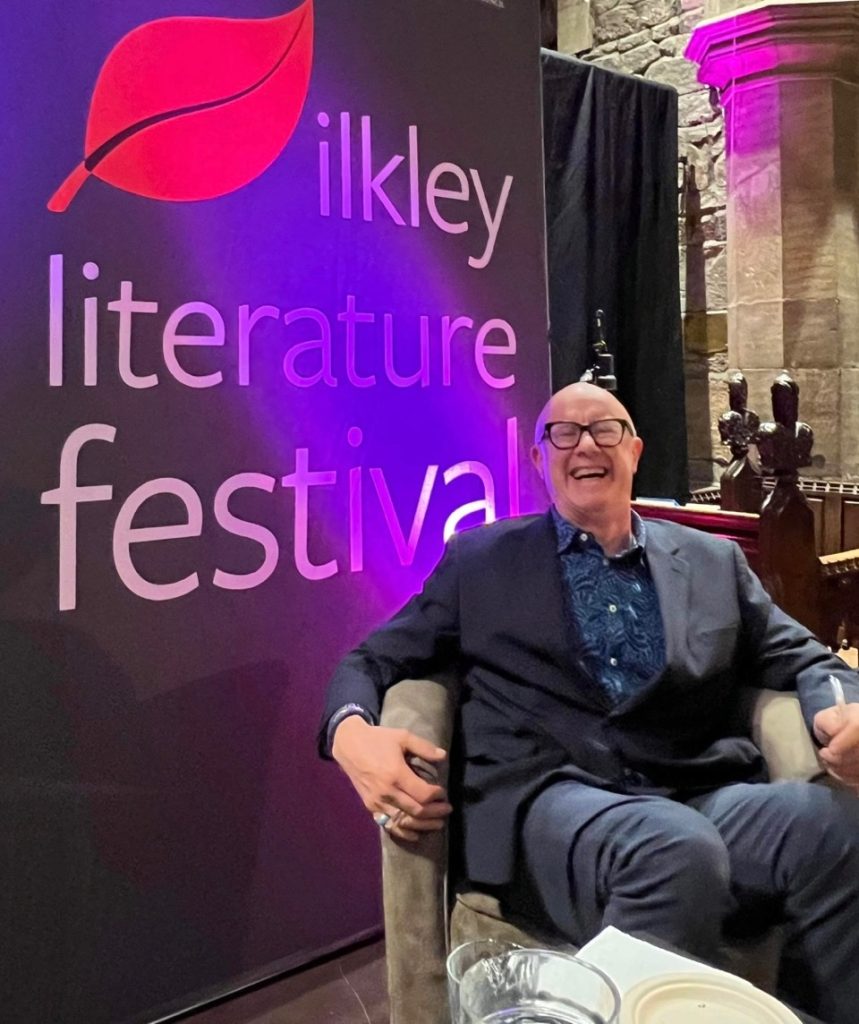 Ilkley this year was very special. The same crew of event and stage managers, the technicians and the Festival team who produced a stunning programme this year; it all feels like I'm working with old friends. Audiences were large and enthusiastic, ready with questions and enjoying the lovely ambience that the festival generates. The Grove Bookshop, always there with festival books to sell and the stunning venues from the intimacy of Ilkley Playhouse, the splendour of the Parish Church to the glory of the Kings Hall all delight me as ever.
I interviewed Anton du Beke about his series of novels set in the world of ballroom [the latest 'A Paris Affair'], and he was greeted by the audience with loud cheering, a very popular and entertaining visitor, always at the ready to spring from his chair to demonstrate a dance move, funny and engaging, I can't remember an hour going so quickly.
Helen Rebanks and Lev Pariakan, shone with their books about farming and flight, Emma Young hosted the best cheese and wine tasting, based around her fascinating book 'The Cheese Wheel'. And how quickly it seemed that
after a few sips of wine the event become louder and more convivial.
The Reverend Fergus Butler-Gallie talked about his book, ' Touching Cloth' aided in our discussion by the Bishop of Leeds also on the platform with us. This was a brilliant event, heartfelt and honest, in which the audience truly engaged.
Mijas, near Malaga did not disappoint, meeting up with friends old and new, many shared meals and gatherings to celebrate the birthday. We stole away for a day to visit the Picasso museum in Malaga, and found much to enjoy there. As ever I found a few paintings to sit with and to enjoy the thoughts and feelings they promoted. How contemporary so many of those paintings and sculptures still look. A feast for the eyes and the mind. Poems will appear as a result I'm sure.